Football Medals | Football Medallions
Scroll down for a great selection of Football Medals in a variety of styles. Each Football Medal includes a free neck ribbon!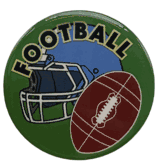 Out of stock - click image for details
Out of stock - click image for details
Football Medal Awards
If you are looking for a budget-friendly alternative to trophies, our award medals are the perfect solution. Many football medals come in gold, silver and bronze finishes and offer optional engraving to keep the price as low as possible. All of our medals include a neck ribbon, and many offer a choice of ribbon color. Without engraving, your order will typically ship in just 1-2 business days, so no need to worry if you have waited for the last minute.
Shop with Confidence at TrophyCentral!
If you are looking to buy football medals online, look no further! TrophyCentral has an industry-leading selection that will fit any budget, all at discounted prices. Our top-rated representatives are happy to assist you with all of your football medal & ribbon award needs. Our experts in New York and Michigan have been providing suggestions and guidance since 1999!

To find the perfect football medal, use our keyword search above, or for personal service, call us toll-free at 1-888-809-8800.